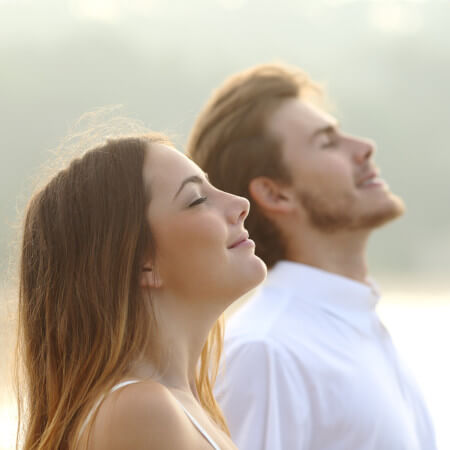 Is your Nose blocked?

It's time for you to breathe freely again.
Does your nose keep swelling up at night as well as during the day? Do you wake up feeling unrested, are you tense or have a dry mouth?
This can be caused by:
sensitive nasal membranes due to extremely dry or dusty air (from heating or air conditioning systems)
persistent cold symptoms
anatomic causes like nasal septum malformation
enlarged tonsils in children
hormonal problems
or regular use of medications (nose spray, blood pressure reducers, antidepressants)
Why is breathing through the nose so important?
It's like a chain reaction: when your nose is blocked, your ears become blocked and you breathe through your mouth. This can cause infections like tonsillitis, pharyngitis, sore throat, cough, along with hoarseness and diseases of the bronchial system. In turn, this can lead to snoring, sleep deficit and fatigue.
We're here to help you find a solution.
Together, we discuss your living circumstances to determine possible causes. We then draw up a tailor-made therapy plan and collectively decide on the best treatment. This may include regular nasal irrigation and, if necessary, the use of gentle medicine. In other cases, minimally invasive or conventional surgery can also help.
As your ENT Specialist in Berlin (Charlottenburg/Wilmersdorf), we are happy to answer any questions you may have. Please contact us to schedule a personal consultation.
You can reach us at 030 892 99 42 or via our online appointment service. We are happy to help you.